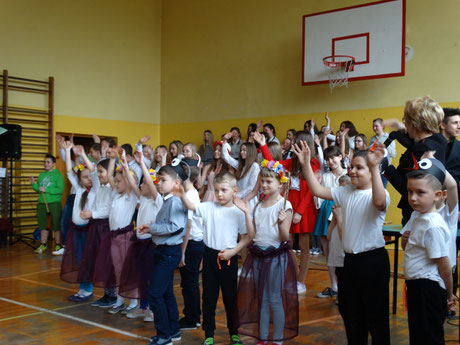 21 marca to pierwszy dzień wiosny, z tej okazji 23 marca 2018 r. uczniowie z klasy 7B pod opieką pani Jolanty Kucharskiej przygotowali nietypowy apel wiosenny "Pokaz mody na wesoło". Uczniowie zatańczyli do utworu "Waka Waka" Shakiry, jak i wystąpili w roli modelek i modeli.
   Uczniowie z klasy 1A pod kierunkiem pani Iwony Polaczek wykonali układ taneczny do piosenki "Hallelujah".
   Na koniec chór pod "dowództwem" pani Haliny Piłocik zaśpiewał piosenki z "Kabaretu Starszych Panów" takich jak "Tanie Dranie" , "Kaziu, zakochaj się" i wiele wiele innych utworów z lat 90. XX wieku. Było to ostatnie spotkanie w takim gronie przed świętami Wielkanocnymi. 
                                                Wesołych Świąt!
                                            Wiktoria Kukla klasa 7B
więcej zdjęć zobaczysz tutaj: