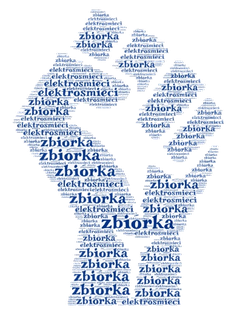 21 kwietnia 2018 r. (sobota) od godziny 10:00 do 14:00 na parkingu Szkoły Podstawowej nr 8 im. Janusza Kusocińskiego odbędzie się zbiórka elektrośmieci.
Akcja organizowana jest w ramach ogólnopolskiego konkursu "Dobre rady na elektroodpady – oddaj mnie w dobre ręce 2018" organizowanego przez firmę AURAEKO, w której nasza drużyna bierze udział po już raz trzeci.
Elektrośmieci to zużyty sprzęt elektryczny i elektroniczny. 
To nieużywane, przestarzałe lub zepsute:
wielkogabarytowe urządzenia AGD: chłodziarki, lodówki, zamrażalki, pralki, suszarki do ubrań, zmywarki, kuchenki elektryczne, piekarniki, grzejniki elektryczne oraz klimatyzatory i wentylatory;
małogabarytowe urządzenia AGD: odkurzacze, maszyny dziewiarskie, żelazka, tostery, frytkownice, rozdrabniacze, miksery, młynki do kawy, noże elektryczne, suszarki, depilatory, golarki, zegarki oraz wagi;
komputery, drukarki, laptopy, kopiarki, kalkulatory, faksy, terminale, aparaty telefoniczne;
sprzęt RTV, wzmacniacze i instrumenty muzyczne;
sprzęt oświetleniowy tj. świetlówki, żarówki energooszczędne, lampy wyładowcze oraz żyrandole;
wiertarki, piły, maszyny do szycia, narzędzia do obróbki drewna i metalu, kosiarki;
zabawki np. kolejki elektryczne, tory wyścigowe, gry wideo;
elektryczne urządzenia medyczne;
czujniki dymu, regulatory ciepła, termostaty;
automaty, bankomaty, baterie
Chrońmy naszą Ziemię i oddajmy " śmieci", które można jeszcze wykorzystać w dobre ręce. Zapraszamy do wzięcia udziału w akcji. Uczniowie naszej szkoły otrzymują punkty z zachowania.
Dziękujemy