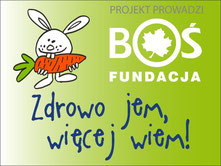 "Zdrowo jem, więcej wiem"
    Śniadanie to pierwszy posiłek po najdłuższym okresie odpoczynku w czasie doby, tak więc konieczne jest dostarczanie energii oraz niezbędnych składników pokarmowych, aby przygotować organizm do ciężkiej pracy. Nauka to naprawdę ciężka praca.
   Bardzo ważne jest też drugie śniadanie. Kolorowe - oznacza, że dużo jest w nim witamin
   W tym celu uczniowie klasy I i II w ramach innowacji pedagogicznej, przygotowali pełnowartościowe pierwsze i drugie śniadanie.
                                                                               Iwona Polaczek