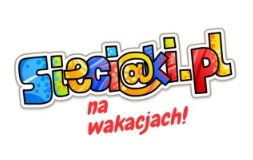 "Sieciaki na wakacjach" to wakacyjna akcja edukacyjna organizowana przez Fundację Dajemy Dzieciom Siłę i Fundację Orange od 2006 roku.
Dotyczy bezpieczeństwa dzieci w sieci, w tym ochrony prywatności, dbania o swój wizerunek w internecie a także edukowania z zakresu zagrożeń związanych ze znajomościami w sieci oraz hejtu online. Duża część działań proponowanych w czasie zajęć skoncentrowana jest wokół tematyki spędzania wolnego czasu. Chcemy skierować uwagę dzieci na takie aktywności, które mogą podejmować poza siecią. Jest to działanie profilaktyczne, które ma na celu zmniejszenie zjawiska nadużywania przez dzieci internetu i urządzeń mobilnych.
Celem akcji jest edukacja w zakresie reagowania na zagrożenia w internecie oraz możliwości ich unikania. Akcja polega na zaproszeniu lokalnych inicjatorów do organizacji sieciakowych zajęć edukacyjnych w oparciu o bezpłatnie udostępniane przez nas materiały pomocnicze. Mogą mieć one formę pikniku lub warsztatów, ich forma zależy od organizatora.
Pierwsze 100 placówek, które zgłosi swój udział, oprócz dostępu do materiałów online, otrzyma także pakiet wysyłkowy: magazyny, broszury, plakaty oraz pomarańczowe sznurówki, potrzebne do przeprowadzenia zajęć dotyczących hejtu online #jestnaswiecej. Materiały zostaną wysłane w ciągu 2 tygodni od rejestracji placówki.
Od 2012 roku w ramach "Sieciaki na wakacjach" zorganizowano już ponad 1000 lokalnych pikników, w których wzięło udział blisko 70 tysięcy dzieci. Placówki
organizujące lokalne pikniki zapraszane są do konkursu, w drodze którego jury wybiera i nagradza najlepiej przeprowadzone imprezy. Dotychczas nagrodzonych zostało 100 placówek.
Rejestracja:
https://www.edukacja.fdds.pl/?option=com_szkolenia&optrs=2&fnd=&grupa=0&offs