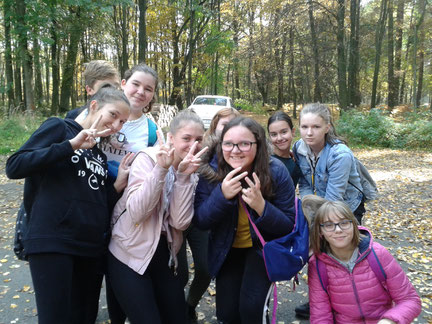 18 października 2019 r. w ramach akcji "Sprzątanie świata" Nadleśnictwo Bielsko zaprosiło szkoły do pomocy w sprzątaniu lasów.
Naszą szkołę godnie reprezentowała klasa 7 D w
10-osobowym składzie:
Kuba Banach, Ania Binek, Wiktoria Grygierzec, Lena Herczek, Natalia Krysiak, Wiktoria Kuryło, Klaudia Kuś, Dawid Kwiczala, Iza Sadkowska, Dagna Szczęśniak.
Porządkowaliśmy obszar leśny Zabrzeg – Zabrzeg Czarnolesie – Jezioro Goczałkowickie.
Na koronie zapory spotkały się drużyny z różnych szkół naszej gminy z pracownikami Nadleśnictwa. Były podziękowania i smaczny poczęstunek.
Cieszymy się bardzo, że mogliśmy pomóc w porządkowaniu lasów.
Wszelkie działania proekologiczne są nam bliskie.
DBAJMY O NASZĄ PLANETĘ, BO JAK NIE MY TO KTO !!!
Śmieci w naszych lasach jest coraz mniej. To fakt.
więcej zdjęć w Galerii
Dziękuję uczniom za zaangażowanie. BB.