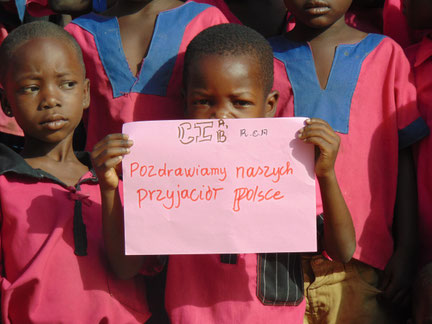 23 października 2019 r.
Szanowni Państwo, ze szkoły w Ngaundaye w Republice Środkowoafrykańskiej dotarły do nas kolejne wieści. Przekazujemy je zatem Państwu, dziękujemy, że tak ofiarnie wspierają Państwo tą szkołę i jej uczniów.
Łączę serdeczne pozdrowienia!
Justyna Janiec-Palczewska
Wraz z Zespołem Fundacji "Redemptoris Missio"
Pokój i Dobro!
            Mamy już za sobą pierwszy miesiąc nauki. 30 września na rozpoczęcie roku szkolnego została odprawiona Msza święta w intencji naszych dobroczyńców i z prośbą o błogosławieństwo w nadchodzącym roku szkolnym.
Zaczęliśmy już zajęcia popołudniowe, czyli koszykówka dla dziewczyn, stolarka dla chłopców
z klasy szóstej, zajęcia wyrównawcze. Także powoli też porządkujemy teren na ogródki szkolne, nie jest to proste bo mamy do usunięcia kilka potężnych korzeni ale ufamy, że da się coś z tym zrobić.
Ruszyła także nasza szkoła krawiecka, mamy 21 dziewczyn i kobiet. Jest to szkoła trzyletnia,
w tym roku zorganizowaliśmy dla nich lekcje z języka francuskiego i matematyki. Dziewczyny są podzielone na trzy grupy, pierwsza grupa jest dla dziewczyn, które nie umieją nic, druga,
dla tych które są na poziomie klasy trzeciej i ostatnia, to te które ukończyły podstawówkę.
Dziękujemy za Waszą pomoc bo dzięki Wam możemy kontynuować nasze prace, prowadzić zajęcia dodatkowe, przyjąć do szkoły sieroty lub pomóc rodzinom wielodzietnym.
Codziennie w naszej porannej modlitwie dziękujemy za Was i prosimy o Boże błogosławieństwo dla Was i dla Waszych Rodzin. Pozdrawiamy Was serdecznie i życzymy wszelkich łask, wszystkiego dobrego.
            Dzieci, Grono Pedagogiczne i ss. Pasterzanki