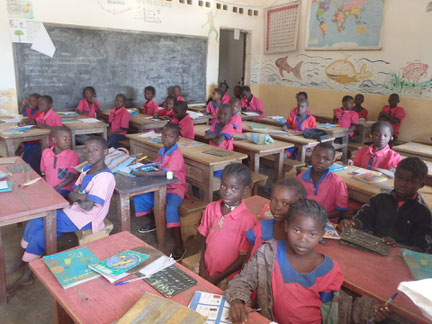 To wcale nie żart! Adoptowaliśmy szkołę w Republice Środkowej Afryki w najbiedniejszym państwie na świecie. Kraj ten od lat nękany jest wojnami domowymi. W kraju tym aż 45% ludności nie umie czytać i pisać.
W Ngaoundaye, niewielkim mieście na terytorium RŚA misjonarka  Anna Jachimek walczy z analfabetyzmem prowadząc szkołę dla miejscowych dzieci. Słaby stan techniczny budynku, brak przyborów szkolnych i wyposażenia to tylko niektóre z problemów placówki.
W szkole dzieci uczą się wielu przydatnych rzeczy. Dzięki regularnym zajęciom dzieci mają szansę nie tylko zdobyć wiedzę z zakresu rachunków, czytania i pisania ale też poznają podstawowe zasady higieny, zdrowego trybu życia, prawidłowego odżywiania oraz kształtują pozytywne postawy społeczne.
Tam w szkole potrzeba wszystkiego, a my mamy wszystko i chcieliśmy pomóc tej szkole w wychowaniu i nauczaniu dzieci.
Kolejny już rok prosimy wszystkich uczniów, nauczycieli, pracowników szkoły i naszych rodziców o pomoc w organizacji naszych akcji, podczas których będziemy zbierali finanse na pomoc naszej szkole.
Pozdrawiamy wszystkich!
Samorząd uczniowski