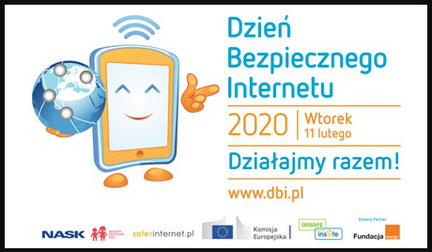 11 lutego obchodziliśmy kolejną edycję
Dnia Bezpiecznego Internetu czyli DBI.
W 2020 roku DBI odbyło się pod hasłem "Dzień Bezpiecznego Internetu: Działajmy razem!". Głównym celem  jest  inicjowanie różnych działań na rzecz bezpiecznego dostępu dzieci
i młodzieży do zasobów internetowych., zaznajomienie rodziców z problematyką bezpieczeństwa online i promocja pozytywnego wykorzystania internetu.  

Organizatorem wydarzenia w Polsce od 2005 r. jest Polskie Centrum Programu Safer Internet (PCPSI), które tworzą państwowy instytut badawczy NASK oraz Fundacja Dajemy Dzieciom Siłę. 
Nasza szkoła również przystąpiła do tej inicjatywy. Uczniowie klas 7 i 8 wykonali plakaty o bezpieczeństwie w sieci lub banery z hasłami np. "Cyberprzemoc, cyberprzemoc to dotyczy nas kolego, uważaj na obcego", "W necie: Ktoś ma tyle lat co ty? Nie koniecznie, uwierz mi", "Stop cyberprzemocy! Nie poddajcie się złej mocy"
Jeszcze w styczniu rodzicom uczniów klas 1, 2 i 3 rozdano materiały: "10 porad dla rodziców dotyczących bezpiecznego korzystania z Internetu przez dzieci". 
W klasach młodszych  przeprowadzono zajęcia wykorzystując kreskówki "Owce w sieci" - to filmiki edukacyjne nt. zagrożeń związanych z korzystaniem przez dzieci z Internetu, telefonów komórkowych i innych nowych technologii. 
link do strony: 
https://www.saferinternet.pl/materialy-edukacyjne/materialy-multimedialne/owce-w-sieci                                                                                                                                                                        Bogumiła Nycz